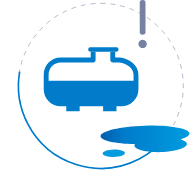 Super quick leak detection just after a few hours, based on real-time data
Super small amount detected. Great level of accuracy
Exact delivery loss identification: factors, causes, real values
Confirmed exemplary benefits:

6500$ loss reduction in 1 month at 10 stations

Precise overdispensing identification and sales system control
Confirmed exemplary benefits:


2000$ in 1 month at 1 station

3 months to fully benefit from the FuelPrime system

The FuelPrime system is completely operational after 3 months from the decision of investment and will return to you fully in the next 3 months.
Your station may be affected to undetected leakage, theft, overdispensing or short deliveries. FuelPrime gives you a peace of mind that your business will be safe and environmentally friendly and you will not suffer financial implications.